July 26, 2012
This week, I want to talk about something that many many Madison County residents will remember - and probably quite fondly. Dogpatch, USA.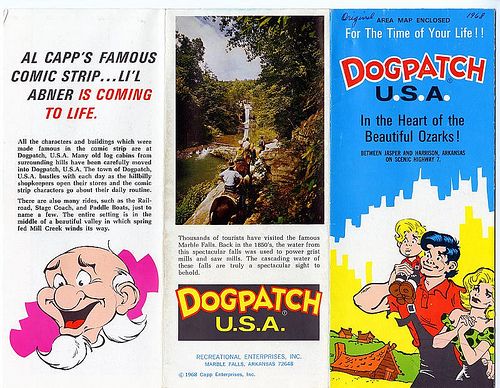 Located about an hour from the Madison County line in Newton County, it's safe to say that countless area residents enjoyed visits to the park themed to the Li'l Abner comic strip imagined by cartoonist Al Capp in 1909.
If you don't recognize any of these characters, you're not alone. That ended up being an issue for Dogpatch. It started as quite a draw, but after Capp retired and the comic strip disappeared from newspapers - the characters became less well known to each new generation of park goer. During my visit to the park, which I remember absolutely loving, even I was unsure about who the characters were - so my mom settled on telling me they were from the comic strip on which The Beverly Hillbillies was based. That trip took place in the 80s and the thing my mom told me isn't true. I suppose it was just easier to explain. I was probably 10.
Never-the-less, Dogpatch was loads of fun. There were rides, games, fishing etc. You could even catch a fish and then have it prepared for you at the park's restaurant for $1 a fish. Unlike parks like Disney, the environment at Dogpatch was genuine. That is to say, it was supposed to look like a little town nestled into the hills of the Ozarks, which is exactly what it was. I remember standing at the edge of a pond trying to catch crawdads when the actor playing the Li'l Abner character came up to help me. I felt like I was meeting a celebrity. Who knew they caught crawdads just like us regular folk?
During the park's hay day, it did pretty well. The Li'l Abner comic strip ran in hundreds of papers throughout the country, essentially serving as free advertising for the park. In fact, 8000 people were there to watch Dogpatch open, according to some extensive research on the subject by the guy who runs the site arkansasroadstories.com.
What got me thinking about Dogpatch was a conversation I recently had concerning ghost towns. A subject that almost immediately made its way to a discussion about Dogpatch. I'd known that the bulk of the park still existed and very much in ghost town fashion. From what I understood, it would not be too outlandish to visit the once bustling park only to run into Scooby and the gang trying to solve a mystery. I mean, an abandoned and dilapidated theme park? That's just the proper amount of spooky to peak my curiosity.
Over the years, when I would meet someone from the area, I would often ask if Dogpatch, USA was still there. I met some who had snuck into the park (which is now posted with no trespassing signs) to explore when they were teenagers, and a few "urban adventurers" who claimed to have done the same. I'm told it can still be seen from Highway 7, but it's been a long time since I was on that stretch of road.
After years of wondering about the park, I'm finally putting some effort into finding out for myself. I research, write articles and take photographs for a living, and I have for almost my entire adult life. Why not combine what I do with my long time curiosity? Hopefully it will result in an interesting future article or BLOG. Because of that, I won't go into too much detail about the history of the park or what's become of it here in this BLOG.
What I would like is your input. If you went, I'd love to hear about your experiences and/or see your pictures. I believe I've located the current owner of the property - but that's actually a tough thing to nail down. There have been a lot of owners, so I'd appreciate any info you might have on that too. Until then, I'll leave you with a picture from Dogpatch past with a picture of Dogpatch present (actually February of 2011).